Life Insurance For People With Rheumatoid Arthritis [Approved! And, Here's How]
Updated: April 28, 2020 at 10:43 pm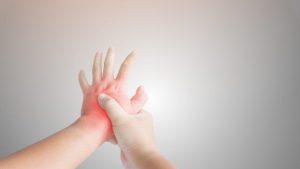 If you have rheumatoid arthritis, you may wonder if you can purchase life insurance?
The answer is more often than not, "yes". You most certainly can obtain life insurance if you have rheumatoid arthritis.
Sure, your health condition will play a part in the underwriting, but you can still obtain life insurance.
In this article, we discuss everything you need to know about purchasing life insurance when afflicted with rheumatoid arthritis. We will go into the underwriting in more detail and what underwriters look for. Additionally, we offer case study examples of people with rheumatoid arthritis.
---
Can I Get Life Insurance If I Have Rheumatoid Arthritis?
As we mentioned earlier, yes, likely you can.
But…(you knew there would be a "but" here)
The availability and the amount you will spend on life insurance depends on the severity of your rheumatoid arthritis.
What does this mean? It has to do with underwriting.
Underwriting is the process of assessing risk. In terms of life insurance, underwriting departments assess your mortality risk. In other words, they determine, based on your situation and other factors, how much:
(1) premium you will pay, and
(2) life insurance coverage available.
Underwriting departments look at several factors when analyzing a life insurance application from someone with rheumatoid arthritis. We discuss these factors next.
---
7 Underwriting Factors For People With Rheumatoid Arthritis
There are several factors life insurance underwriters look at when they receive an application from someone with rheumatoid arthritis. These factors include:
(1) the date of diagnosis
(2) medication taken
(3) any disability
(4) any deformity
(5) frequency of flare ups
(6) body parts affected
(7) any other health conditions
Let's talk about these factors in more detail.
Date Of Diagnosis
Generally speaking, the date of diagnosis matters. Underwriting departments like to see a recent diagnosis of rheumatoid arthritis. A longer diagnosis date indicates a longer treatment time. The longer the treatment time, the higher your mortality risk (generally). The higher the risk, the higher your premium.
This is a general answer, but hopefully, you understand that a recent diagnosis is more favorable than a longer one.
Medication Taken
The type and amount of medication play a part in underwriting for rheumatoid arthritis. Some medication is more favorable than others. If you don't take any, that is even better.
Medication can have varying side effects.
Aspirins, ibuprofen, and other anti-inflammatory drugs likely won't affect your premium rates.
However, treatment with steroids, methotrexate, prednisone, and other immunosuppressive drugs will likely affect your rates. The reason is that these drugs have side effects that can affect other parts of your body.
Does this mean you stop taking your drugs for the sake of life insurance? No! Always follow your doctor's treatment plan.
Just know that the type of medication matters.
Are You Disabled?
Being disabled also plays a part in underwriting. If you:
(1) are disabled,
(2) are unable to work because of your rheumatoid arthritis,
(3) need motorized assistance, or
(4) can't live independently,
the carrier will increase your premiums or decline you all-together.
(Don't worry. We provide situational examples soon.)
Any Deformity?
While morning stiffness with rheumatoid arthritis isn't usually an issue, deformities are. For example, the inability to use your hands or move your wrists will negatively impact your premium rates. Likewise, if you can't walk or have deformities with your feet or toes. If your rheumatoid arthritis restricts your mobility, that will likely have a great impact on rates.
Frequency of Flare Ups
Rheumatoid arthritis creates flare ups from time-to-time. Flare ups are an underwriting consideration because the more flare ups you have, the higher the likelihood of joint damage. The higher the likelihood of joint damage, the greater the possibility of a deformity or disability.
Affected Body Parts
It is a known fact that rheumatoid arthritis affects other parts of your body. Carriers will want to know the extent of any joint damage you have. Additionally, they will want to know if you experience any bone erosion.
Moreover, rheumatoid arthritis potentially affects your heart, lungs, and other major organs. Additionally, it contributes to weight loss and even low blood counts, in some cases.
Underwriting departments will look at your situation from all angles.
Other Health Conditions
Other health conditions or hazardous lifestyle choices greatly impact your ability to obtain life insurance. Do you smoke? Are you overweight? Do you have other health conditions like diabetes?
Of course, there are some things outside of our control. However, maintaining a healthy balance as best you can with RA will lead to better underwriting results.
Now that you know what underwriters look for when assessing an application, let's talk about the decisions underwriters make.
---
Life Insurance Decisions For People With Rheumatoid Arthritis
It is important to stress that the purpose of the underwriting is to mitigate risk. All parties (the carrier, the agent, and you) want the best possible outcome for you. Based on the information you provide about your rheumatoid arthritis and other information, the life insurance underwriting department makes an offer. Additionally, they assign a health classification. The amount you pay (i.e. the premium) for your life insurance is based on this health classification.
Life insurance carriers establish health classification ratings, or also known as tables. Look at the example below. This is a typical life insurance table. Depending on your situation, you will fit into one of these tables.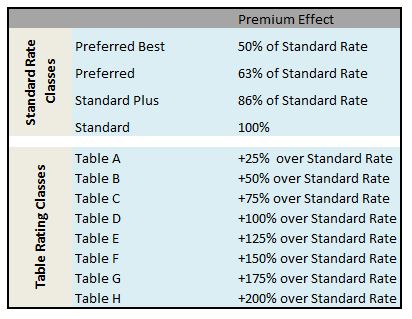 The tables start at preferred best (i.e. those for very healthy), which is the lowest premium you'll pay. The tables go up to table H, which is the highest premium you'll pay (all things being equal). Classifications above standard are known as table ratings. If the underwriting department is unable to classify you on the table, they will decline your application.
Let's get this out of the way: carriers won't offer a person with rheumatoid arthritis a preferred best or preferred rating. The best health classification available is Standard. Standard rating is still very good! A Standard rating means the underwriting department says you have the average health and mortality of an average person.
However, most, if not all, people with rheumatoid arthritis have a table rating. The level of rating depends, as we stated earlier, on the severity of your rheumatoid arthritis as well as other factors we described.
Let's discuss these health classifications with someone with RA through several case study examples.
Example Of A Standard Rating
Todd is a 34-year-old man. He was diagnosed with rheumatoid arthritis 3 years ago. He had one flare up. Other than rheumatoid arthritis, he is in great shape. He doesn't smoke and limits alcohol intake. He currently takes ibuprofen if he feels stiff and regularly sees his doctor.
A carrier likely rates him at Standard rating.
Example Of A Table Rating
Martha is 50 years old. Diagnosed with rheumatoid arthritis ten years ago, she feels good, but the condition has taken a toll on her body. She takes Enbrel, which is an immunosuppressant. Although she has had success with Enbrel, she does have flare ups. X-rays indicate no bone density problems or erosion issues. That is great news. However, she has more trouble with her feet and hands. She does work full time and currently not disabled.
Carriers likely classify her as a table B through D. Note, depending on bone density and other tests, life insurance carriers may rate people with rheumatoid arthritis at a table F or higher.
Example Of A Decline
Rebecca is 55 years old living with rheumatoid arthritis. The condition confined her to a wheelchair. She is disabled and does not work. She also needs assistance with activities of daily living.
Carriers will likely decline Rebecca. She is presently disabled.
I hope this gives you a good idea of how life insurance carriers classify people with rheumatoid arthritis.  It is important to stress that these examples are just that. Examples. Your situation is different.
I am sure you have many questions about life insurance and rheumatoid arthritis. Let's discuss some of those questions next.
---
FAQs About Life Insurance And Rheumatoid Arthritis
What Types Of Life Insurance Are Available For People With Rheumatoid Arthritis?
If you have rheumatoid arthritis, the types of life insurance available depend on the severity of your condition. However, many people with rheumatoid arthritis are eligible for term life insurance and permanent life insurance.  Permanent life insurance includes whole life, guaranteed universal life, index universal life, among others.
If you are declined, you still have options. Guaranteed issued life insurance exists. Guaranteed issued life insurance contains no health questions. The carrier doesn't ask any health questions. You simply fill out the application. Upon application review, the carrier issues the life insurance policy. We work with an affordable guaranteed issued life insurance plan if you would like to learn more.
Do I Need To Take An Exam?
Possibly. Some carriers will require a paramedical exam. Other carriers will not up to a certain death benefit amount. The choice depends on the carrier. Additionally, some carriers that usually don't require a paramedical exam could require one.
However, if you want the best rates available, you will likely need to go through a paramedical exam.
As Someone Living With Rheumatoid Arthritis, When Is The Best Time To Purchase Life Insurance?
The best time, no doubt, is now. You are likely the healthiest at this moment. Moreover, you will pay the lowest premium available to you right now. If you wait, you risk paying a higher premium and/or a decline if your condition worsens.
I Have Some Stiffness With My Rheumatoid Arthritis. That's It. How Much Do You Think I Would Pay?
We aren't underwriters. In our experience, however, expect a classification between standard and table B. As we mentioned, it's unlikely a carrier classifies you at preferred best or preferred.
In order to provide an accurate quote, we would need to know more about your health and situation, in addition to your rheumatoid arthritis.
Can You Tell Me About The Application Process If I Have Rheumatoid Arthritis?
We aim to make the application process as easy as possible. Who wants to spend tons of hours applying for life insurance? No one does. Here's a step-by-step process. However, your specific situation might be different.
First, we learn more about you and your situation. We conduct a life insurance needs analysis. We'll ask you many of the questions we outlined above in our section titled "7 Underwriting Factors For People With Rheumatoid Arthritis".
Next, with this information, we reach out to life insurance carriers that underwrite people with rheumatoid arthritis favorably. Not all life insurance carriers analyze people with rheumatoid arthritis the same. For example, some carriers automatically decline people with rheumatoid arthritis. Obviously, we stay away from those carriers.
The carriers provide a tentative health classification, based on you. We then report these offers back to you. With our assistance, you select the option.
After that, we conduct the life insurance application. We complete the application over the phone with you. Nowadays, many carriers conduct the health questioning and assessment themselves. If that is the case, we will start the application with you and then notify the carrier to contact you to complete your application.
As described earlier, a paramedical exam could be required. If that is the case, we will help schedule that for you.
Carriers require your doctor's records if you have rheumatoid arthritis. This is nothing you need to do. The carrier will reach out to your doctor directly.
Once the carrier receives all the information, they will make a decision. We will then communicate that with you and answer any questions you have.
Conclusion
We hope this article about life insurance and rheumatoid arthritis was helpful. Can you obtain life insurance? Of course, you can.
We know maneuvering through all of this stuff can be confusing. That is why we are here. Contact us, or use the form below, if you would like our assistance. We would be very happy to help you out. There is really no risk of contacting us. Why? At the very least, you'll learn something new. If we can't help you out, we'll part as friends! Seriously! You see, we at My Family Life Insurance only work in your best interest. You can bet the recommendation we offer to you is the one that fits your situation, not someone else's and certainly not ours. If we can't help you, we tell you that. Additionally, we will point you in the right direction and help you out as best we can. This is the only way we know how to work with our clients.
Learn More
Are you interested in learning more about the information in this article? Please fill out the form below, and we will email you additional information or give you a call. We always work in your best interest. By entering your information, you are providing your express consent that My Family Life Insurance may contact you via e-mails, SMS, phone calls, or prerecorded messages at any phone number(s) that you provide, even if the number is a wireless number or on any federal or state do-not-call list. Additionally, you understand that calls may be placed using automated technology, and that consent is not a requirement for purchase. Your information will NOT be sold and will remain private. However, you may opt out at any time. We respect your privacy first and foremost.