Updated On: by My Family Life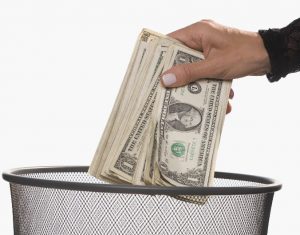 Recently, I was on a webinar about life insurance with living benefits. If you don't know what living benefits are, don't worry. I will explain below. I sat through these webinars before. This time, I hoped to hear something different to convince me why life insurance with living benefits is a good idea for individuals and families. But, I didn't, and I sat there, hearing the same old story why I should be selling life insurance with living benefits. (I'll tell you more why, below.) It doesn't change my mind. In this article, I discuss why life insurance with living benefits is a waste of money.
What Is Life Insurance With Living Benefits?
You probably know that life insurance has a death benefit. The death benefit is the amount of money your beneficiary will receive income tax-free upon your death. Pretty easy to understand, right?
Well, you may not know that the life insurance business, especially the term life insurance market, is very competitive. In some ways, term life insurance is simply a commodity. Hence, if you have no health complications, good weight and height (BMI), non-tobacco user, etc, you can probably apply for life insurance on your own without speaking to an agent, with no issue, and get the cheapest policy possible. (You can apply through our link. We work behind the scenes, only contacting you if we need more information or have a question on your application.)
Because of the "commoditization", carriers have been trying to position themselves in niches. One carrier might position itself as the "go to" insurance carrier for type 2 diabetics. Another one might position itself as simple and easy underwriting process (United Home Life is one). And, finally, many carriers have offered "living" benefits instead of the aforementioned plain, boring death benefits-only on their policies.
To be clear, we are discussing living benefits on term life insurance. I will discuss living benefits on whole life insurance in a minute.
What Are Living Benefits?
The term "living benefits" simply mean to utilize the death benefit before death. That is, you use it while you are alive. There are three common areas where the life insurance carrier allows you to use the death benefit before death:
(1) chronic care situations
(2) critical illnesses such as cancer and heart attacks
(3) terminal illness
The third area, terminal illness, has been available for some time through many carriers. The other two areas are relatively new to consumers.
Description Of The Common Living Benefits
Here is a description of the common living benefits:
(1) chronic care – you can receive money to take care of your chronic care or custodial care. Usually, this means if you can't meet 2 of 6 activities of daily living or have a cognitive impairment. If this sounds like the definition of eligibility for long-term care, you are right. However, I must stress that the chronic care option is NOT long-term care insurance. This living benefit simply pays a lump sum benefit if you can't meet 2 of 6 ADLs or if you are cognitively impaired.
(2) critical illness – will pay a benefit if you are diagnosed with a covered illness such as cancer, heart attack, stroke, ALS, etc. You can then use this money for your insurance bills, doctor and hospital care, etc.
(3) terminal illness – if a doctor says you have fewer than 12 to 24 months to live, generally speaking, you can receive money for your use. You can use this money for your care, to take a vacation with your loved ones, or use it for anything you want.
Why Life Insurance With Living Benefits Is A Waste Of Money
Well, John, you say. This all sounds good. So, why do you think it is a waste of money?
This is why. Let me ask you a question: I reference above that the living benefits will provide you money. Where do you think the money comes from?
If you said, "the death benefit", then you are right.
Well, John, that isn't that bad. It's not a waste of money. Right?
Before I tell you why, it is important that you understand that if the money comes from the death benefit, there is less death benefit available to your surviving spouse upon your death. Do you see the problem?
Yes, that my surviving spouse and children will have less death benefit and they might struggle.
That is right.
Remember: the purpose of life insurance is to provide an income tax-free lump sum to your surviving spouse, children, and family so they can live on comfortably. I hope you did an analysis determining your death benefit needs. What if you were to advance your death benefit early? Your family may not have the necessary death benefit in place to continue its standard of living in case of your death. Let's be honest; if you are in need of chronic care, critical illness, or terminal illness, your life expectancy has probably decreased, making a death claim more probable.
That's OK, John. I'll just get more insurance, you say.
Good luck with that. Chances are, you are now uninsurable. In my opinion, you could leave your surviving family high and dry.
Moreover, many of these accelerated benefits terminate at the end of the term life insurance. What happens if you develop cancer after your term life insurance with living benefits expire? Well, you just wasted money on the life insurance policy.
Death Benefit Reduction
Carriers vary on the death benefit advancement. For example, some carriers allow advancement of 90% of the death benefit. Let's say you determined your death benefit is $500,000. Your doctor diagnoses you with stage 2 colon cancer. You elect to receive an advancement of your death benefit under the critical illness option. You receive $450,000 (90% of death benefit) to pay for the high cost of medical bills as your health insurance leaves you exposed to out-of-pocket costs, leaving your family $50,000 available upon death. Is this enough for your family to live on when you calculated $500,000? The answer is probably no, if your needs analysis indicates $500,000.
Living benefits potentially adds unnecessary cost to your monthly life insurance premium. If you see value in long-term care or critical illness, then there is a better way. That is why we say life insurance with living benefits is a waste of money. The additional cost is higher for simply the advancement of the death benefit early. Stated another way, you are paying much more for access to the death benefit early. There is a better solution which we discuss next.
Better Solution
If you see value in a long-term care insurance policy or an insurance policy that covers critical illnesses, you can buy these separately when you apply for life insurance. Why? Separate policies generally offer better coverage. The advancement options through the life insurance policy is a one-time lump sum. These separate policies, the ones we like to use, will not only pay you a lump sum benefit, but also provide on-going, important benefits during your treatments. They will also protect your life insurance death benefit for your surviving family since these are separate policies.
However, we do like the terminal illness option because advancing your death benefit can make sense in that case.
If having living benefits integrated with your life insurance policy appeals to you, then we recommend increasing your life insurance death benefit a minimum of 3 X to incorporate a chronic or critical illness event. This ensures, upon your death, a remaining death benefit appropriate for your family.
Keep in mind, though, that increasing your death benefit by 3X will substantially increase your premiums. Frankly, you might spend less on a separate policy. This is why we think life insurance with living benefits is a waste of money. Advancing the death benefit early have dire consequences for your surviving family upon your death. Also, in order to appropriately integrated living benefits with your life insurance, we feel you need to increase the death benefit 3 Xs at a minimum.
Another Option
There are other options that may better serve your situation. Let's refocus on the living benefit offerings:
(1) critical illness
(2) chronic care
If you are struck with a critical illness or in need of chronic care, chances are, likely, your situation is a disabling event.
Have you ever thought about a comprehensive disability insurance plan which will cover your income in case you can't work?
A well-structured disability insurance plan typically offers better coverage than a lump-sum living benefits rider.
Is Whole Life Insurance With Living Benefits Better?
Even though I am not a huge proponent of whole life insurance or other types of permanent insurance, in my opinion, it can be. Why? Well, here is a big problem I see with living benefits on term life insurance:
When the level premiums on the term life insurance expire, so do your living benefits that you paid so much more money for.  Unless, of course, you decide to annually renew your policy. (And, let's be honest, most people do not continue with term life insurance as the premiums substantially increase every year. In case you did not know, most term life insurance policies allow you to continue the life insurance annually, but at an increasing premium liken to the shape of a hockey stick!)
Whole life insurance is designed to last your lifetime. This fact makes better use of living benefits. Let's say you have a $100,000 whole life insurance policy with a chronic care rider. You are diagnosed with dementia at age 80. Likely, the chronic care benefit pays its share to you for your use. Or, let's say you have a heart attack at 75. The plan will pay.
Do you see the difference? The living benefits on the term life insurance would have expired long ago. Living benefits on a whole life insurance of permanent insurance make sense because the premium you are paying will provide a benefit. In other words, if you never use the living benefits, your policy will pay the death benefit to your beneficiaries.
Many carriers offer living benefits on their guaranteed universal life plans and indexed universal life plans as well.
What If You Can't Afford A Separate Policy?
Funds are limited, right? More often than not, however, most families can find ways to pay for a separate critical illness plan. But, if funds are really tight, then the best option is the one you can afford. If that means a term life insurance policy with living benefits, without the death benefit increase to compensate for a potential critical illness or chronic care event, then so be it. You have to do what makes financial sense for your family.
Conclusion
We believe term life insurance with living benefits is a waste of money because advancing the death benefit could have dire consequences for your family upon your death. In order to adequately integrate the living benefit options, we feel that you would have to increase your life insurance by a minimum of 3 X. This can cost prohibitive, and a separate plan may be more affordable.
As we discussed, whole life insurance with living benefits may provide better coverage. Additionally, having separate policies covering these events may provide better coverage.
In every case, the right solution is the one that fits your needs and situation. Not someone else's and definitely not the life insurance agent's interest.
We at My Family Life Insurance pride ourselves in serving our clients with their best interests first. It is the only way we know how. If you were presented life insurance with living benefits and want to know your other options, or want to work with an agency that values you and your family, contact us. Or, use the form below.